Sedation Dentistry in Butler, PA
Between 50% and 80% of adults in the United States have some degree of dental anxiety. Dental anxiety can keep you from going to the dentist for fear of experiencing pain, potentially leading to dental issues that can affect your health. To help those who struggle with dental anxiety, Brockley Dental offers sedation dentistry. Read more about what sedation dentistry is and how it can help.
What Is Sedation Dentistry?
Sedation dentistry refers to the use of sedatives to keep patients calm and comfortable as they undergo various dental procedures. It's a mild-to-moderate level of sedation, leaving you awake but keeping you relaxed.
Sedation dentistry can create a state of short-term amnesia to prevent you from experiencing pain or stress without the need to render you consciousness.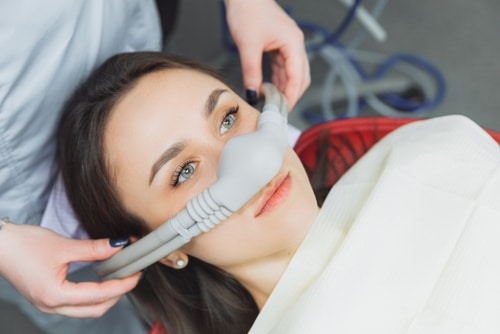 Sedation dentistry may be a good option if you have any of the following:
Dental anxiety

Decreased sensitivity to local anesthesia

A fear of needles

Extreme tooth sensitivity

Claustrophobia in the dental chair

Special needs

An overly sensitive gag reflex

Trouble controlling movements
We offer different sedation options to ensure that you have a positive experience at our office.
Nitrous Oxide
You may know nitrous oxide as "laughing gas." It's a sweet-smelling gas that you inhale through a nosepiece or mask. Once applied, nitrous oxide can help you relax in as little as three minutes. 
We can adjust the dosage and control the level of sedation you receive throughout your procedure. Once it's complete, we can flush out the nitrous oxide with pure oxygen. Since nitrous oxide leaves your system rapidly, most patients can drive themselves home. 
Conscious Oral Sedation
Conscious oral sedation allows us to give you a sedative — usually in pill form — about an hour before the procedure starts. We typically use sedatives in the diazepam family, but we have a number of different options available. Because we're a family practice, we can also offer sedation for children in the form of gentle oral syrup. 
With conscious oral sedation, you'll likely feel tired and might even fall asleep. However, we can easily wake you, and you'll still be able to communicate with us if needed. 
Keep in mind that oral sedation does affect your memory and motor skills, so you'll want to have someone with you to take you home following the procedure. 
Emotional Support Animals
At Brockley Dental, we have two friendly dental therapy dogs that serve as emotional support animals. They can help keep you calm and lower your anxiety levels prior to and during your procedure. They're especially helpful for children with dental anxiety. 
Benefits of Sedation Dentistry
Sedation dentistry offers benefits for us as well as our patients. Since you'll be calmer, we can work more efficiently and finish the procedure in less time. That means you may not have to make as many appointments, which can save you money, time, and stress. 
Many people have such a high level of dental anxiety that it can keep them from reaching out for help even when they have serious oral health issues. By offering sedation dentistry, we can help you get the necessary treatment and prevent further health issues. 
If you have a sensitive gag reflex, practically any dental procedure can trigger it. The spasms this reflex causes can make it difficult for us to access certain areas of the mouth and can even lead to injury. If the muscles in your throat contract around our tools, you might end up with cuts, bruises, or other minor damage.
Injury isn't a concern with sedation dentistry, as it allows us to effectively paralyze the gag reflex. 
Sedation dentistry can cause a mild degree of short-term amnesia. This can be something of a blessing for people who suffer from phobias, but it may prevent you from forming memories of your procedure and the moments immediately before and after it.
Sedation dentistry can also offer added pain relief. Although we use localized anesthesia for most of our procedures, oral sedation or nitrous oxide can also help keep you comfortable throughout the process.
The Sedation Dentistry Process
If you need to have any kind of dental treatment done and you experience dental anxiety, the first thing you should do is reach out to Brockley Dental for a consultation. We're here to offer the support and care you need. 
During your initial consultation, we'll ask about your medical history, previous dental procedures experience, and any medications you're currently taking. This interview can help us decide what type of sedation will offer the best results for you.
We may ask that you stop taking blood thinners in the days leading up to the procedure. If you'll be receiving sedation, you must avoid eating or drinking anything for at least six hours before the procedure.
Before beginning the procedure, we'll administer the sedative that we think will be most appropriate for you and your elected treatment. If we use oral sedation, we'll ask you to arrive at our office an hour ahead of the scheduled time to ensure that it has ample time to work.
Once the sedatives have taken effect, we'll apply local anesthesia. We like to wait to do this so those with fears of needles aren't forced to undergo added stress.  
Unless we've provided nitrous oxide as the sedative, which we can quickly flush from your system after the procedure concludes, you'll need someone to drive you home. Don't rely on a taxi or rideshare service — you'll want to have someone you trust there, as you might still be sleepy or incapable of communicating effectively.
Go straight home and rest until the sedative wears off. It may take up to 24 hours for it to leave your system completely.
You can begin eating and drinking again immediately after the procedure, though most people choose to wait until the local anesthesia dissipates so they don't risk biting their tongue or cheeks. 
The Brockley Dental Philosophy
Brockley Dental is a family practice owned and operated by the father-daughter team of Donald B. Brockley, DMD, and E. Ahono Gildersleeve, DDS. This dynamic dental duo is ready to assist you with all your oral health needs. 
We treat each of our patients with genuine care and compassion, ensuring that they never feel rushed during their consultations or required procedures. We have over 30 years of experience and know how to effectively soothe patients who struggle with dental anxiety. 
Our team has lots of experience working with kids and adolescents, too, which allows us to give young children the treatments they need even if they have dental anxieties. In our eyes, you're more than just a case file — you're a person and a member of the Brockley Dental family.
Although we don't offer conventional insurance payment options, we're happy to file a reimbursement claim for you to ensure that you get the most out of your eligible dental insurance plan. We also offer CareCredit financing to make treatment accessible to everyone who needs it.
Call Brockley Dental Today
If you have dental anxiety and it's preventing you from seeking the care you need, schedule an appointment with the friendly oral health experts at Brockley Dental.
Our family practice offers help to those in the Greater Pittsburgh and Butler, PA, areas, providing professional sedation dentistry services and dental therapy dogs to help put you at ease.
Don't let your dental issues get worse. Call Brockley Dental today.
Sedation Dentistry Videos